Christmas time, is here...
The mafia, is near...
Fun for all, that townies' call,
Mob justice and good cheer...
Blood is on, the ground...
Fear has replaced glee...
Now we go, trudge through the snow,
To the faithful lynching tree...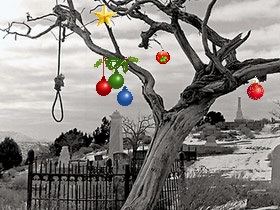 Welcome to Secret Santa Mafia
In this game, you each give one other person a present: their role! After signing up, send me a PM with the role you'd like to give away. Each player will then be given one role at random from the pool of presents (though you can't get your own), alignments will be assigned, and the game will begin! Anything goes as far as the roles go, though I'll ask you to change anything too game breaking, so be creative! 'Tis the season of giving!
I'll run this game provided we can get at least 7 players. No upper limit in case we've actually got people still coming to this site.

Players
1. RedNihilist
2. Manders
3. imopen2
4. rezombad
5. Tordeck
6. PedroBear
7. NightArcher
8?
9?
...
Replacements
1.
...