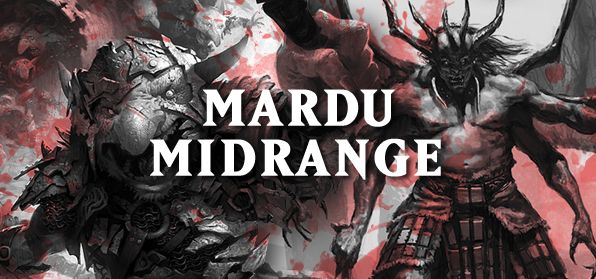 Welcome to the Mardu Midrange Primer! Mardu Midrange is a deck that goes big, with Demons, Dragons, Planeswalkers and/or Birds. It's main strengths are its multiple fliers and ways of gaining life. The deck is occasionally tricky, but fun to play. If any or all of that appeals to you, read on.
Mardu Midrange was in the minds of many people before rotation. Most people started thinking about it the second they saw
Butcher of the Horde
spoiled. Brian Braun Duin brewed a lot of Mardu Midrange decks before the set released. Jon Goss came up just short of winning the first SCG Open after the release of Khans of Tarkir. The deck won multiple state championships (seen below) but only had one respectable finish at Pro Tour: Khans of Tarkir. However, the Horde bounced back and recently Top 8'd GP: Los Angeles with Brad Nelson at the helm. This weekend, Mardu Midrange took the top 3 spots in the TCGPlayer MaxPoints Championship. I believe it's appropriate to call in a teir one deck at this point.
The main reasons to be Mardu
Know what's sweet to play after Rabblemaster? This guy. A 5/4 Flyer for four already reminds me of a
Desecration Demon
. Except instead of having downsides, this guy has THREE upsides. The mana is admittedly a downside, but this card just wins the game if it sticks. The main draw to this particular colour combination.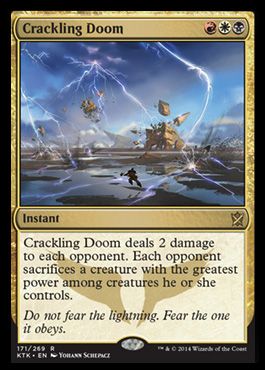 Another premiere creature removal spell, another reason to be in these colours. It pretty much always gets their best creature, and gets around hexproof and indestructible. And it damages them. This card has been very good.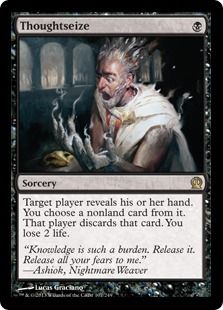 Thoughtseize
was one of the pillars of the format last season, and that isn't likely to change. With how much worse the mana bases are, the two life lost is likely to be a lot more important, but it's still too powerful to ignore. A lot of the more recent builds have been moving away from it.
Best removal spell in the format. These two go together like peas and carrots. It does compete with
Crackling Doom
a little. A lot of players have been moving away from this one a little.
Goblin Rabblemaster
is turning out to be another pillar of the format. It seems like last season's
Thoughtseize
into
Pack Rat
is going to be
Thoughseize
into
Goblin Rabblemaster
this year.
While he's likely not as strong as
Goblin Rabble Master
, he is another aggressively costed token creating problem creature. Without
Lifebane Zombie
to keep him down, it may be time for the Lion King to reclaim his throne. Also very good against aggro. Lately I have not been impressed by this card, but if aggro comes back, I'll dust him off.
This guy is far better than I initially thought he was. The anthem + lifelink is huge and allows you to swing games you had no business winning. The minus ability is reasonable too, but the plus is the one we care about more.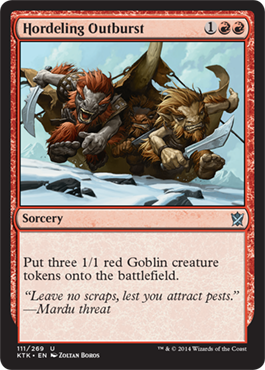 Because you need to feed the butcher and this is the closest thing we've got to
Spectral Procession
.
Example Decks:
Mardu Midrange by Jon Goss, 2nd at StarCityGames.com Standard Open on 9/27/2014
---
Mardu Tokens by Jeremy Bowman, 24th Place at StarCityGames.com Standard Open on 9/27/2014
---
Mardu Aggro by Andy Fergeson, 26th Place at StarCityGames.com Standard Open on 9/27/2014
---
Mardu Midrange by Nathan Wulf, Iowa State Champion
---
Mardu Midrange by Jon Stigall, Kentucky Champion
---
Mardu Midrange by Brian Saari, Minnesota Champion
---
Mardu Midrange by Richard Grube, North Carolina Champion
---
Mardu Midrange by Donovan Lachney, Wyoming Champion
---
Mardu Planeswalkers by PIERRE DAGEN, Pro Tour Khans of Tarkir
---
Mardu Midrange by NATHAN HERKIMER, Pro Tour Khans of Tarkir
---
Mardu Midrange by Brad Nelson, Grand Prix LA Top 8
---
Mardu Midrange by Andrew Baekerstrom, 1st at 2014 TCGplayer.com MaxPoint Championship
---
RYAN SCULLIN - WINNER, GRAND PRIX SAN ANTONIO 2014
---
Main deck cards worth considering
Stormbreath Dragon
/
Sarkan, the Dragonspeaker
: Basically the same card. The meta will determine if Pro-White or
Indestructibility
is more relevant. After using Sarkan's ultimate, I am not super impressed with it, but the minus is also good.
Stormbreath Dragon
seems to be better in the current meta because it can't be charmed. A mix of the two is possibly correct.
Wingmate Roc
: Competes with Stormbreath, meta dependent / Personal Preference which you run.
Bile Blight
/
Lightning Strike
/
Magma Jet
: With no
Doom Blade
or
Ultimate Price
, these are our premium 2cc removal spells. They're good in different situations, so it's probably best to play the one that your manabase supports.
Magma Jet
also gives us some very welcome scry to help smooth our draws.
[card]Elspeth, Sun's Champion[/card]: Not as amazing as last year, but still very strong.
Murderous Cut
: Another premium removal spell. Doesn't play well with
Empty the Pits
, but is good in most other cases. Should likely be a 1 of. I like it enough to play it main.
Chained to the Rocks
: A card that's near and dear to my heart. Brad ran it with 6 Mountains + 4 fetches, so I guess that's enough to play 3x.
Seeker of the Way
: A card that can easily attack into hexproof plant and Courser. Also helps you gain life.
Chained to the Rocks
: Not as good as it was at the beginning of the season, but still strong. Be careful targeting
Siege Rhino
in case they board removal for the chain, like
Erase
,
Banishing Light
,
Utter End
etc.
Sideboard Options worth considering:
Bloodsoaked Champion
: This guy is very, very good. unfortunately, in a world of
Sylvan Caryatid
s and
Courser of Kruphix
, he gets relegated to the sideboard.
Nyx Fleece Ram
: Blocks all day and can trigger raid if needed. The lifegain is also useful with how much self inflicted damage you do over the course of a typical game.
Anger of the Gods
/
Drown in Sorrow
: They serve similar roles. Anger is generally better, but you should play whichever one you manabase better supports.
Harness by Force
: A long time favorite sideboard card, I like it in any sideboard that support it. With a bunch of midrange decks running around, this one should get you some value.
Empty the Pits
: This card has been good in grindy midrange matches. When you're both on top decks, this card turns the game completely in your favor. Interacts well with butcher.
Liliana Vess
: Best in midrange / control match ups. The +1 is what we're mostly concerned with, but the minus is also potentially useful.
Chandra, Pyromaster
: The zero is the most important mode here, because we want to use it as a one sided
Howling Mine
. The +1 can also be clutch to get your Butcher through a
Stormbreath Dragon
.
Deicide
: The gods are still cards.
Purphoros, God of the Forge
and
Nylea, God of the Hunt
are still seeing lots of play.
Deflecting Palm
: Hard to say if we'll want it in this list, but it's been very good in the Jeskai Tempo decks that have been doing well in open this weekend.
Suspension Field
: On of the only 2cc removal spells that hits nearly every creature you care about not named
Goblin Rabblemaster
or
Stormbreath Dragon
.
Banishing Light
: It's a catch all. It's good.
Despise
:
Thoughtseize
5+6.
End Hostilities
: Sometimes you board into a full blown Superfriends control deck. That's when you want a Wrath effect.
Read the Bones
: Need card draw? How about a better, easier to cast
Sign in Blood
that pumps your
Seeker of the Way
so you actually net a life?
Utter End
: 4cc, instant speed
vindicate
.
Erase
: Tech vs
Jeskai Ascendancy
Glare of Heresy
: Good vs a variety of white threats.
Videos:
http://www.youtube.com/watch?v=jtIsBmAfvq4
http://www.youtube.com/watch?v=ZgFelFp0yyU
http://www.youtube.com/watch?v=t1H9xTm4cpQ
http://www.youtube.com/watch?v=geeryYwdd_M
http://www.youtube.com/watch?v=F4VyoN-nrz4
http://www.youtube.com/watch?v=rZcY6TJntsU
http://www.youtube.com/watch?v=6Iphx4S36L8
http://www.youtube.com/watch?v=sulBi-TTJCk
http://www.youtube.com/watch?v=iOpaOLoMB1o
http://www.youtube.com/watch?v=mmIkAk-O97M
http://www.youtube.com/watch?v=oRPr_-PzMYU
http://www.youtube.com/watch?v=KMhPkjxGCRQ
http://www.youtube.com/watch?v=b9VFrI0LuaI
http://www.youtube.com/watch?v=jhbS69BtZnw
http://www.youtube.com/watch?v=_i_DoWnea8Q
http://www.youtube.com/watch?v=YqWZYoGzwmA
http://www.youtube.com/watch?v=Lfkbbp4FvsI
http://www.youtube.com/watch?v=WHDCCxf4M4E
http://www.youtube.com/watch?v=ka9JdRWoPd8
You can discuss this article here