RED DECK WINS
][
The Primer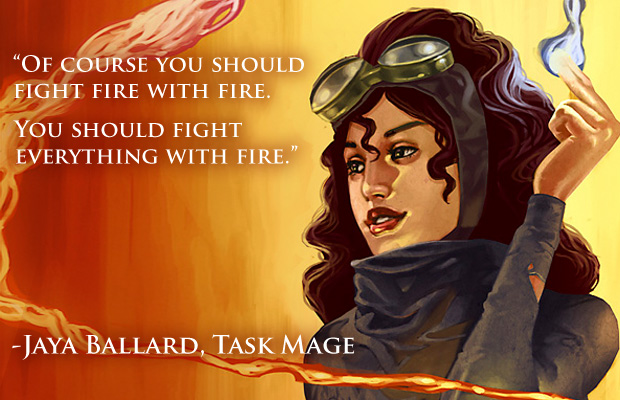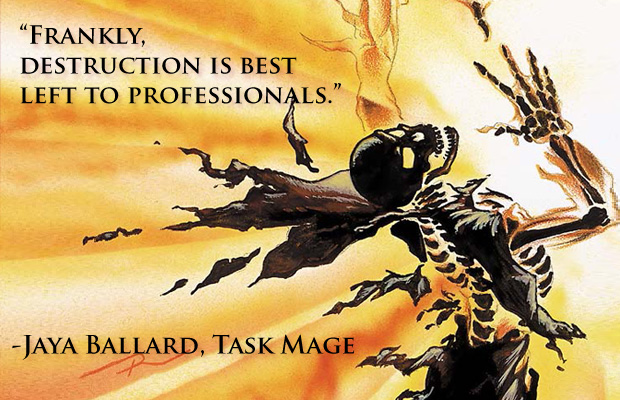 "Spontaneous combustion is a myth. If you burst into flames, someone wanted you to" - Chandra Nalaar

"Sometimes you die a glorious death in battle. Sometimes you're just target practice" - Jaya Balard, Task Mage
Hi everyone, and welcome to the Competitive Aggro Red Deck Variants thread for Standard. This thread will enable discussion of any red aggro archetype, whether it be Sligh, Burn or Midrange.
Red
Decks trace their origin with to the best known red deck - Dave Price's "Deadguy Red" from 1997 (list can be seen
here
). The decks of that time were based around mana-efficient creatures, a low curve and resilience to disruption. Add to this the most efficient burn spells of the time and mana disruption and a real terror was born. Did you want to beat Jon Finkel? Well, if you opened with Jackal Pup into multiple wastelands then fireblast, you could!
While Sligh (alternatively known as "Red Deck Wins" or "RDW") has continued the tradition of focusing on efficient creatures, Burn decks focused on mana-efficient burn spells to further minimize interactivity. RDW gets there by getting in a lot of damage early with creatures and then finishing the game with burn spells once the opponent stabilizes the board. When Burn Decks are strong, they play out like a combo-
deck; needing to draw 7 'action' spells to win. With careful selection and tight play, playing Red can be both a fun and highly rewarding experience. These decks reward dedication to both the colour and to active learning and participation - red lacks the marquee power cards enjoyed by some of the other colors, yet if you look at the highest level there are players that always play red and always do well - once your really learn
how to play red
you can take on anything.
I. Introduction
Red decks are characterized by small, aggressive creatures supported by a number of efficient damage spells, such as
Lightning Strike
. While many think that red deck construction is simple "take 4 of each of the best red card", it is not that easy. What has made Red Decks so successful throughout magic's hisory is the emphasis on a few key themes:
Have a Fast Clock:
You want to kill your opponent as quickly as possible. You should be able to reliably goldfish a kill around turn 4 or 5. It is very important that your deck has these "nut draws" because what a red deck trades in objective power (through playing cheaper and thus weaker creatures and spells, not splashing into other colours for powerful cards) it needs to make up for in consistency and speed. If your opponent stumbles at all, you want them dead before they can draw out of it. If they're trying to assemble some fancy collection of cards, you want them dead before they can. Part of this is having a good creature curve. The other part is having a consistent mana base.
Inevitability:
Unlike a combo or control deck, Red decks don't have any one key spell. Most of the creatures are very similar, as are the spells. Countering one or playing around one won't win the game for your opponent. By having multiple copies of redundant effects, you reduce the impact of countermagic
and increase the likelihood of your nut draw. Having enough burn to remove blockers early and then burn the opponent out once your creatures are no longer effective is an important part of deck design. The capacity for your deck to finish an opponent spells is called
reach
. Generally, more reach is better.
Virtual Card Advantage:
This is a big, under appreciated one. Many Red Deck critics will eschew decks of the best colour because they have no avenue to card advantage. What they fail to understand is that red decks measure card advantage in a different way to other decks - we are much more concerned with
Virtual Card Advantage
. You achieve VCA through careful deck design, knowing what to play around and being able to punish your opponent's misplays (forced or unforced). I might be empty handed at the end of turn 6 and my opponent might have six cards in hand - but if he is dead, what is the value of those cards? He may as well
have mulliganed to one, because he certainly didn't use those cards. Is a card they never get to use really a card at all?
Risk Diversification:
Linking into the above themes, a well built red deck will spread its threats, so that no one answer will beat the entire deck. For example, haste creatures make sorcery speed removal much worse. A well built deck will be capable of winning quickly, but will also have means of battling through other creature decks or decks with lifegain. You can't build and play a deck that just scoops to a common strategy.
Red Decks tend to be cheap to build and fairly easy for newer players to understand. They're a great choice if you are looking to get into competitive magic, build a new deck for fun, or to introduce a new player to the game. They are also highly addictive. It is also an extremely strong and storied archetype, with a proud and highly successful history. To increase your chance of success with a Red Deck you should be familiar with
the common themes of the archetype, what everyone else is playing in the format, have an understanding of how to evaluate red cards and some knowledge of the history of the game - learning from the mistakes of masters of the past means you don't have to make them yourself.
Would you like to know more?
You can read the
Essence of Burn
by forum member urdjur. It is written to legacy burn decks, but the themes and knowledge in there is invaluable for any would-be red mage. Also, check out the old thread we had from the last standard season. There are a lot of gems in there. It can be seen
here
.
Please feel free to post your deck list or ask for advice. We strive to have a strong community of red mages, each helping the others to improve. We
only ask that any deck list be appropriately formatted and provide with comments / notes to enable discussion.
II. Building the Deck
It is not that difficult to build a playable Red Deck, but with a little more effort you will have a much more optimal list. There are some key principles you should keep in mind:
First Principle: Damage and Cost - How fast is your goldfish?
The main reason to play a red deck, in any format, is the speed and consistency with which you can attack and kill your opponent, through resistence. You won't have access to the best creatures at each point in the curve, or the most powerful spells or endgame - but while other decks durdle around trying to sculpt their hand, find their cards and stabalise, you just eat huge chunks out of their life then burn them out. The concept of 'gold fishing' involves simply taking your deck, drawing your opening hand and then playing a game against no
opponent - the faster your deck kills your opponent, the faster your goldfish. Ideally, your deck should be able to goldfish a turn 4 kill, with a variety of different draws. In 4 turns you will see 10 or 11 cards - it is essential that your average draw in 10 cards can at least put you in a position to win the game.
For example, you can see my current RDW list in the Mono Red lists at the bottom of the primer. If it curves Rakdos Cackler into GoreHouse Chainwalker into Ash Zealot into Hellrider, that is 0 + 1 + 7 +14 = 22 damage in 4 turns. Does that sound like a ridiculously good draw? Well, I could go Rakdos Cackler into Gorehouse Chainwalker into Gorehouse Chainwalker, which is a MUCH worse draw - only 0 + 2 + 5 + 8 = 15 damage, with one fewer cards played. With all the burn in the deck, even that much, much worse draw is very likely to be sufficient for a kill.
What these numbers show you are what your deck is capable of under normal circumstances. This process is important so that when you look
at your opening hand you can quickly determine if there is enough action to win - if your deck cannot even goldfish a kill, how will you beat a deck that can fight back? This process is typically sufficient to ensure that your deck is capable of aggressive enough draws to win. To lower your goldfish number, we need to consider card efficiency, which can be summarized as the damage a card is expected to do, compared to its mana cost. For example,
Lightning Bolt
is more efficient than
Lightning Strike
, so when lightning bolt is in the format, you would always play the full four before considering any Lightning Strike. The same consideration applies to creatures -
Rakdos Cackler
costs the same as [card]Mon's Goblin Raiders[/card] but you would expect it to do a lot more damage - so it is a better card.
Once you have your goldfish down, move onto the next principles, which will help to refine the
deck.
Second Principle: Land Count - How many Mountains?
So how many lands should you run? The exact number actually matters less than most people think, when it comes to mulligans and top decks at least, as can be seen from the table below:
-----0---1----2---3--4--5+
17:--8--27--34--22---8--1
18:--7--24--34--24---9--2
19:--6--22--33--25--11--3
20:--5--20--32--27--12--4
21:--4--18--31--28--14--5
22:--3--17--30--29--16--5
The table shows a statistical simulation of #lands in your opening seven (in percent), depending on how many lands you choose to play. As you can see, there's not a lot of difference as far as mulligan decisions are concerned. You want to always mulligan hands with 0 or 5+ lands. The sum of these columns is a constant 9% whether you play 17 or 21 lands. More 4-land hands than 1-land hands are keepable, but we're really looking to max out on 2-3 land hands. As you can see, 20-21 lands gives a total 59% chance for
such hands, while 17 lands give a 56% chance. Thus, it's generally accepted that 20-21 lands is the optimum break point. However, care should be taken to balance your land count to fit your build and curve - if you want to run more 4 cost creatures, run more land. The following was kindly denoted by thread member redthirst -
Probability of Hitting Your Curve
(assuming you're on the play):
# of lands - % chance of having 1+ land/1st turn - 2+ land/2nd turn - etc
# - 1+/1 - 2+/2 - 3+/3 - 4+/4 - 5+/5 - 6+/6
18 - 93% - 76% - 54% - 34% - 19% - 9%
19
- 94% - 80% - 59% - 39% - 23% - 12%
20 - 95% - 82% - 64% - 44% - 27% - 15%
21
- 96% - 85% - 68% - 49% - 32% - 19%
22 - 97% - 87% - 72% - 54% - 37% - 23%[/
color]
23 - 97% - 89% - 76% - 59% - 42% - 27%
[color=red]24 - 98% - 91% - 79% - 63% - 47% - 32%
25
- 98% - 93% - 82% - 68% - 52% - 37%
Third Principle: Pressure - Can't Stop, Won't Stop
The key consideration for a competitive red deck is building a maindeck plan that will ensure that you do not run out of threats as the game drags on. This can be difficult, because red does not have access to sources of card advantage found in many of the other popular archetypes. Failure to build pressure into your deck will result in you being empty handed, hoping to topdeck multiple cards to win, while your opponent gets further and further ahead - we have all been there and it feels awful.
The first consideration is having a great mana curve. A mana curve is the distribution of mana costs in your deck - for an aggressive strategy to work, you want the vast
majority of your cards to cost only 1 or 2 mana. This increases the reliability of your deck and increases the explosiveness of your draws. The best possible draw in the Mono Red deck is Turn 1x1drop into Turn 2, 2x1drop - such a draw becomes much more likely the more 1 drop creatures you run. The mana curve is most relevant for your creatures, because you will not usually need to cast your spells "on curve". At the same time, you should still prefer cheaper spells over more expensive spells - a weaker spell that you can cast is worth a lot more than a more powerful spell that will always be stuck in your hand (I am looking at you,
lava axe
!). If you look at the example decklists at the end of the primer, then graph the mana costs of the cards therein, you will see this principle in practice.
Fourth Principle: Mana Sinks - Putting your land to use
Your deck should have some capacity to fight through mana flood (drawing too many lands).
Even with a very well designed deck, it will still happen, so you ned a way of making that mana work for you. The all time best example for red has always been
Grim Lavamancer
. The lavaman was so good, you wanted to flood out. While we are no longer blessed with his services, there are other examples avalable:
- creatures with activated abilities. For example,
Hammer of Purphorous
which turns each extra land into a hastey 3/3 golem - that is pretty good!
- spells with scaling costs. For example,
Volcanic Geyser
or
Mizzium Mortars
. These cards get stronger the more mana you have available.
- manlands (lands with the activated ability to attack like a creature). These are a great way to work through mana flood - they give you an extra way to spend your mana each turn, and they are also a land! What's not to like? Right now we have
Mutavault
, one of the
best manlands ever.
With those principles in mind, let us turn our minds to specific card choices.
Red Deck Building Decisions - Ash Zealot or Burning-Tree Emissary by DerWille
---
III. Building the Sideboard
Red Decks tend to have a great
game 1 record, but a poor record overall. I believe a large part of this is improper sideboarding (both in construction and is use). Red Decks have very real problems with three things:
They have life gain!
All we want to do is 20 damage to the face. Lifegain makes that harder. While some token lifegain can be overcome, when the lifegain is significant or continuous, you will need a way to overcome it - especially if that source of lifegain becomes popular in the metagame.
They're faster!
Red Decks are often the fastest gunslingers in town - but not always! It is important to understand what your role is in
every
matchup - which Red Decks are usually the aggressor, this is not always the case. Sometimes you're the control deck! If your opponent's deck is faster, you need to recognise this and change your plan accordingly. Please read Mike Flores' excellent article "Who's the Beatdown?" linked in the articles
section below for clarification. If there is a real need to sideboard into a control deck, your sideboarding plans should enable this.
They have "Hate Cards"!
For some reason, Development keeps printing cards that unfairly target Red Decks

Recent examples include
Timely Reinforcements
or
Kor Firewalker
. When these cards exist in the format, it is important to have a way to beat them post sideboard.
You will want to consider specific matchups when making maindeck choices, that can then be supported by your sideboard plans. Have a good understanding of what cards are good against which decks to better appreciate how many slots to dedicate to each matchup.
Principle 1: Sideboard for the Matches you can Win, Sideboard for the Matches you Need to Win
A lot of players, even very experienced
players, get sideboarding wrong. You
can
play narrow cards. You
can
play a transformational sideboard. The question you need to ask yourself is, 'What do I need to do to increase my chances of winning?'. It maybe isnt obvious that all you're trying to do is increase your chance to win. You cannot ever make a matchup certain - though with clever sideboarding you can often greatly improve even your bad matchups.
What you need to know when building your deck and then your sideboard is
what you're trying to win
. Are you just trying to win casual pick-up games at your local? Trying to beat a specific friend? Trying to win a Daily Event on MODO? A PTQ? What you expect to face is very important. If you're facing just your friend and you know what he is playing, you can devote your entire sideboard to beating him. If he could play a couple of different decks, you can split your sideboard for those decks. If you're playing on MODO,
you can look up what decks are popular before playing.